I am a writer and illustrator. Most of my writing and artwork involve plants and animals in some way. I've always loved books and reading and have been drawing since I was very young so it makes sense that those two passions eventually combined. And the nature part? The Bug and Animal Zoo at summer camp. Once I held my first tarantula, there was no going back.
Tenalach is an Irish word used in the hills and mountains in the west of Ireland that describes a relationship one has with the land, air and water, insinuating a deep connection that allows one to literally hear the earth sing...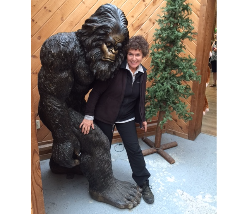 California bluebells, San Garbriel Mtns, CA.
Banana slug, north coast redwood forest, CA.
Comparing feet with Bigfoot.
What I'm reading (or just read): ALL OF ME by Chris Baron A middle grade novel about body image issues and learning to love who you are. I really liked this book.